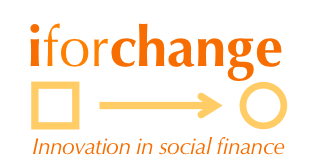 Social investment – being impactful and generating a return.

More social enterprises and charities are seeking investment.

Experienced social investors are becoming more discerning, and new investors are emerging.

Central government is actively encouraging social investment.

Social impact bonds are being considered by a range of actors.

i

fo

r

change

looks both at individual social investments and at social investment strategy.

Photo: Peter Pearson
iforchange can help you understand the social investment landscape and how to position yourself to take better advantage of it. We have relationships spanning the public sector, the third sector (UK voluntary organizations and international NGOs) and investors – and this helps us understand the issues from all angles.
For more information, please contact info@i-for-change.co.uk